PAVEMENT FAILURE & HARDSTAND COLLAPSE
---
Have you ever driven down a bumpy road or dodged deep potholes on industrial property? Witnessed hardstand or concrete failure? Been stranded at the side of the road due to bad roads and vehicle damage?
Examples of hardstand failure are common in today's environment and neither rigid (cement slab) nor flexible (asphalt) are reliable or sustainable alternatives.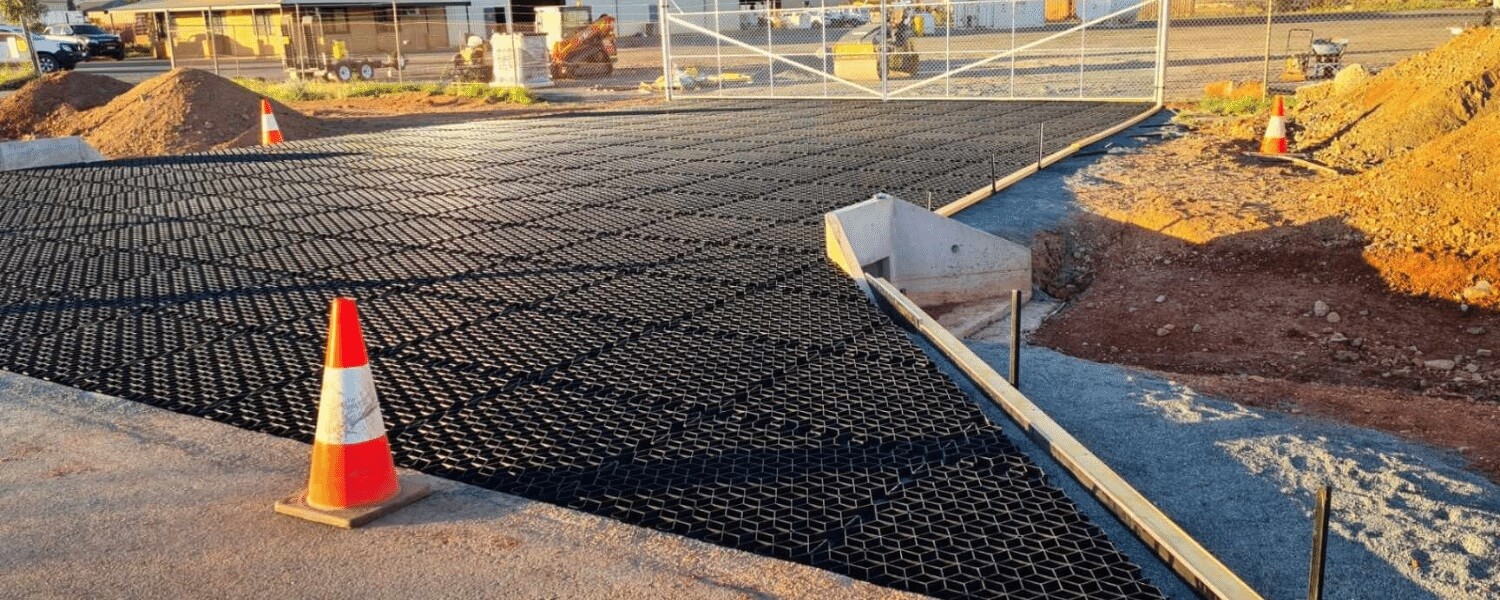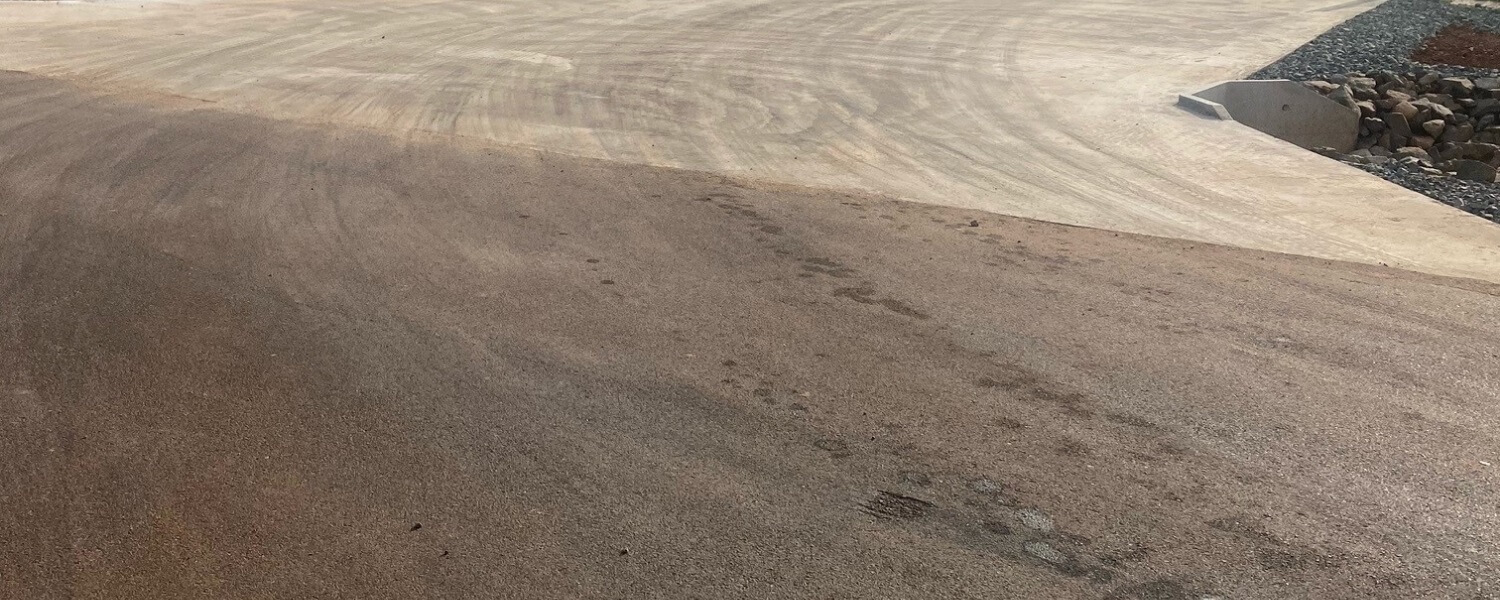 IMAGINE THE POSSIBILITIES OF A SURFACE ANYWHERE
---
Rombus provides surface stabilisation technology for hardstands, roads, pavements, concrete slabs, yards, farms, mines, golf courses and just about anywhere you need a solid flexible surface.
Designed, developed and manufactured 100% in Australia this versatile alternative to asphalt and concrete stands is innovative and extremely environmentally friendly.
Made from recycled plastic in Australia we not only slash carbon from your next concreting project, but the product uses one of the biggest pollutants around, namely plastic.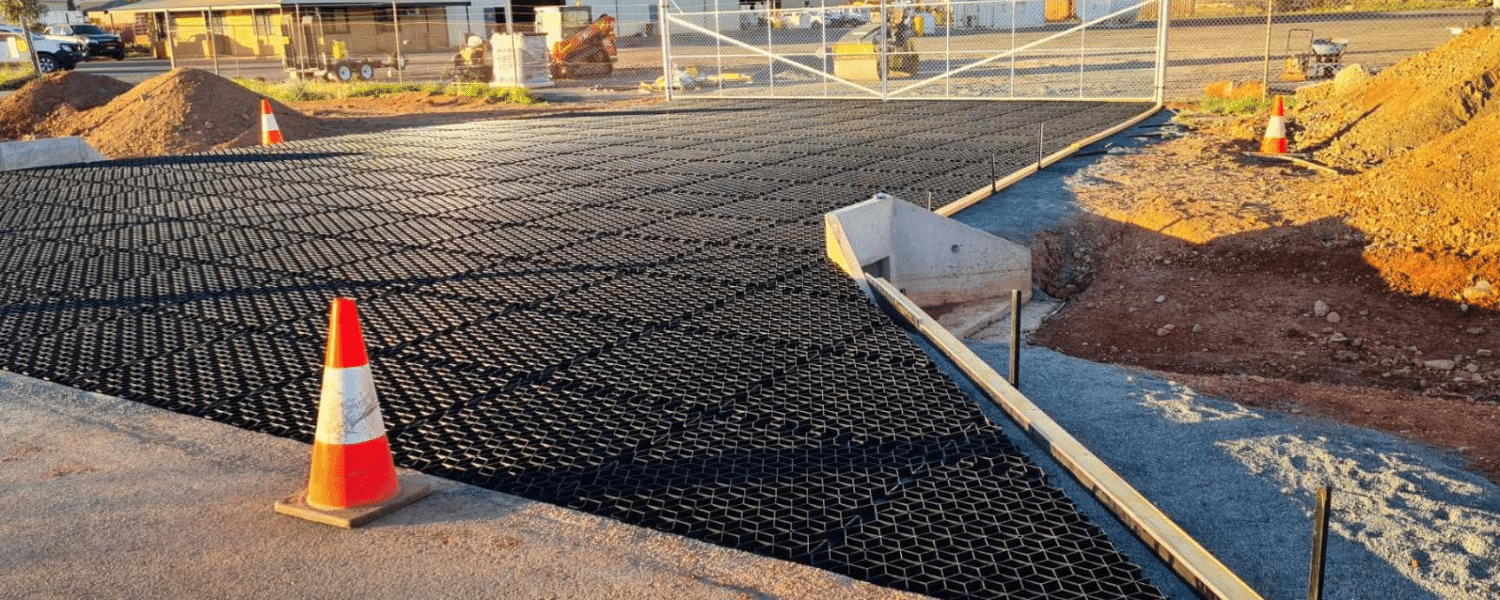 THE ROMBUS GRID MESH SOLUTION
---
The Rombus Grid is a recycled co-polymer polypropylene product formed as a modular pavement and solid surface system that's faster, cheaper, cleaner and greener to use across a wide range of applications.
Designed specifically as a pavement system it's also extremely effective for ground stabilisation applications.

---
The ground pressure per square cm of the reach stacker on the right-hand side in the picture above is 3 x HIGHER than the 600-ton haulpak on the left? Rombus engineers hardstands that work the first time, every time.
Rombus is a cross between a flexible and rigid pavement, it can replace the traditional concrete slab significantly reducing carbon emissions and costs.
Below you can see a reach stacker (72 tonnes) driving over one of our test pads and it is extremely hard to believe that this pavement is only 40mm thick!

The ground pressure of this reach stacker is approx. 11kg/cm2 and the 150mm thick concrete slab we drove over to get to our test pad has started cracking as a result of this ground pressure.11kg/cm2 might not sound like a lot until you compare it to a 600-tonne haulpak which has a ground pressure of 4kg/cm2.


---
Direct seeding and harvesting equipment in WA recently called on J & R contracting to install a wash pad. Rombus grid was used and the entire install was quick and efficient. Note the ability of the concrete truck to operate directly on the grid eliminating the need for expensive pumps and additional equipment onsite.
---

The addition of a wash pad on the worksite was a huge success
We used Rombus grid from

Rombus Industries

made from 100% recycled plastic sourced within Australia.
We are also extremely happy with the service from
J and R contracting
co and how quickly they got the job done
---
WIDE VARIETY OF APPLICATIONS